Energy Star®
ENERGY STAR® is a joint program of the U.S. Environmental Protection Agency and the U.S. Department of Energy helping us all save money and protect the environment through energy efficient products and practices.

Energy efficient choices can save families about a third on their energy bill with similar savings of greenhouse gas emissions, without sacrificing features, style or comfort. According to ENERGY STAR® 's web site, results are already adding up. Americans, with the help of ENERGY STAR® , saved enough energy in 2009 alone to avoid greenhouse gas emissions equivalent to those from 30 million cars– all while saving nearly $17 billion on their utility bills.
As a proud ENERGY STAR® partner, Weather Shield products are rated, certified and labeled for U-Value and Solar Heat Gain by the National Fenestration Rating Council (NFRC). Many of Weather Shield® windows not only meet, but exceed ENERGY STAR® standards for energy efficient windows and doors.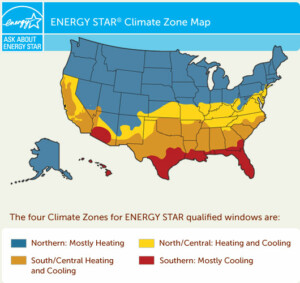 The ENERGY STAR® criteria for residential windows and doors are tailored to four Climate Zones. A product's energy efficiency for a given climate is based on its impact on heat gain and loss in cold weather and heat gain in warm weather. Check to see what ENERGY STAR® climate zone you live in utilizing the climate map above.
To learn more about federal and local rebates available in your area, visit the ENERGY STAR® rebate locator.