>
What Door Style is Right for Me?
Some of the most impactful decisions you make when you're picking out the finishing touches of your home's design are the windows and doors — especially ones you interact with on a daily basis. Whether you are building a new custom home or remodeling, there are a few important things to consider when picking out a new patio door.
find the best door for the space
No matter what, patio doors command attention in any room because they draw in light from the outdoors and are so large, they tend to showcase what's on either side. Having a style that pairs well with your plans is a given, but where do you start?
There's a myriad of door design choices and without a game plan, finding the right door style might get overwhelming. As you research your options, knowing how you need the door to operate within its space can help inspire your vision.
If you're working in tight confines, maybe you want a sleek sliding patio door that pockets its panels while opening. This will save space by tucking the doors out of the way instead of swinging in or out and taking up valuable floor space. Or maybe you want to maximize the view with a bi-fold door that slides completely out of the way.
understand the door's job
Will this door be a major entrance point or more of a focal point? Will there be constant traffic or occasional? Year-round use or seasonal? Factoring all that into your decision and being realistic about how the door will be used will save you from frustrations in the long run. Weather Shield has a variety of doors that function differently. So whether you choose a door that slides or folds open, we have you covered. And if you experience dramatic changes in temperature – think hot humid summers and cold brutal winters, Weather Shield Zo-e-shield energy glass system helps homeowners save money on heating and cooling bills, energy year-round and even protect home furnishings by blocking 95-99.9% of the sun's harmful UV-A and UV-B radiation. This will help reduce fading on interior furnishings and flooring, another win-win.
embrace the details
Framing color, hardware and other finishing details can make or break the look of your patio door. The prominent color of the door should blend well with its surroundings, both on the interior and exterior.  Weather Shield's portfolio includes 10 furniture-grade stains from Sherwin-Williams®. These stain offerings provide a furniture-grade finish, meaning they have an appearance that reflects a fine, quality piece of furniture and can deliver a consistent, cohesive finish throughout a home.
Hardware accents are available in a wide array of color and style options. This flexibility makes it possible to complete the look in a way that makes it exclusively yours. A major trend that continues to rise in popularity is to mix traditional door designs with contemporary hardware and accents for a transitional look. There is no wrong answer as long as the end result is a style that's right for the design of your home. 
Weather Shield's portfolio also includes designer handle sets that offer additional personalization options. In partnership with industry-leading hardware suppliers, such as Ashley Norton, Baldwin®, Hoppe®, and EMTEK®, and with over 34 new handle sets to choose from, designers and homeowners have a range of styles and finishes across the Contemporary Collection™, Premium Series™, and Premium Coastal™ product lines.
weather shield suggests these door options and application considerations for each:
next gen sliding patio door
Great for homes that experience all weather climates and people who like to entertain and surround themselves with stunning outdoor living spaces such as the mountains, beach or even a pool. This innovative patio door keeps the harshest elements out with an exceptionally tight seal. What makes this door unique in the market is its advanced hardware system. By throwing a single lever, the active door panel shifts inward, perpendicular to the wall. This shift releases the perimeter sealing gaskets, allowing the door to slide effortlessly with little friction. When the door is in the locked position, the panel is drawn in to create an exceptionally tight seal with multiple lock points on both stiles. A wept 1-1/4" low-profile sill diverts water away from the interior. An optional direct-glazed version of the door expands the visible glass, giving a clean, modern look.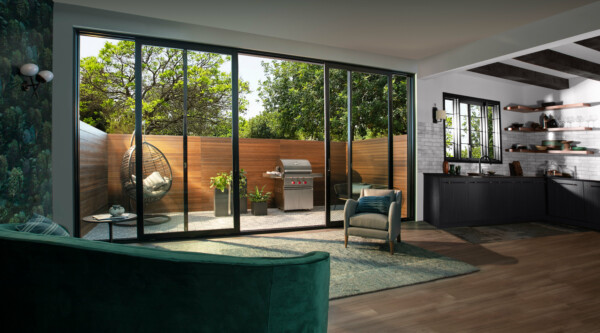 bi-fold patio door
Great for those who like to entertain and connect with the outdoors. This bi-fold patio door's panels slide completely out of the way to maximize the view. Connected with center hinges, the panels open accordion-style using a track-and-glide system and a guide that enables each panel to pivot.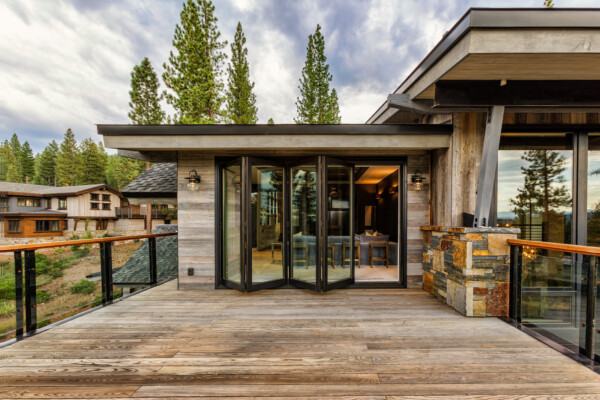 multi-slide patio door
Great for homes with moderate-width patios or walk-out decks where you can flow effortlessly onto outdoor lounging areas. With massive spans up to 50′ wide and 10′ high, this sliding and multi-slide door is durable and low maintenance with extruded aluminum exteriors that stand up to the harshest elements, resisting dents, dings and scratches with rot-resistant composition.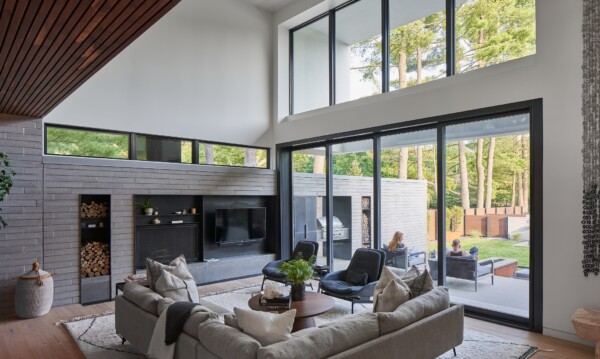 make a statement
Aesthetically, windows and doors are the most important feature of the home – they're what guests notice first when they visit and what complete the look.

Whether you're looking for the perfect centerpiece of your next design or want to bring some existing plans to the next level, Weather Shield has plenty of amazing window and door offerings that can help make every single one of your projects an absolute masterpiece. Learn more about how Weather Shield's windows and doors can elevate your project by calling us directly at 800-538-8836 or by locating your nearest Weather Shield dealer.