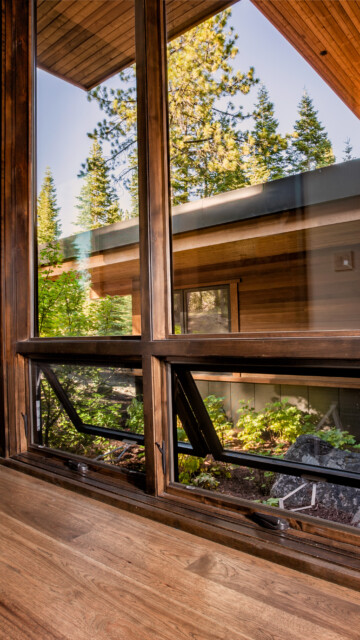 Choosing A Professional
Do I need an architect?
If you want a truly one-of-a-kind new home or have a tricky design or building situation, an architect's services are essential. But tasks such as modifying a standard home plan, adding a dormer or remodeling a bathroom are projects that you and your builder or remodeler can probably tackle together. Remember that for complicated interior changes, large additions or perplexingly stubborn questions about appearance and function, an architect's assistance at the planning stage can be a very good investment. For more information, contact the American Institute of Architects and the Society of American Registered Architects.
How can I locate a design or building professional?
Start with friends, relatives or neighbors who have worked with builders, remodelers, architects or designers. Satisfied customers are always the best reference. If you don't know anybody who has employed the kind of help you're looking for, check with your local Home Builders Association or the National Association of Home Builders (NAHB), the NAHB Remodelers Council, the National Association of the Remodeling Industry (NARI) and the American Institute of Building Design.
How do I evaluate my candidates?
Set up an appointment with each candidate and bring along photos or sketches of your current home or the home you want to build. Discuss your ideas and what you hope to accomplish with them. Ask to see representative examples of each person's work (accomplished professionals should have a portfolio of pictures to show you) and solicit the names of their previous clients. Follow up by visiting with some of these references. Gauge their opinion of the work, and decide for yourself how well the project turned out.
What about alternatives to architects?
Designers don't have an architect's credentials, but many are quite skilled at planning residential projects. Some designers specialize in kitchens and baths, interior spaces or landscaping, while others plan out entire houses. Designers may charge an hourly rate or a flat fee. For more information on finding a designer visit American Institute of Building Design website at www.aidb.org.
General Questions
How often should residential windows be replaced?
Homeowners with windows over 25 years old should consider replacing them, both to gain the best energy efficiencies and to protect the "envelope" of the house. A home is an ideal candidate for a window replacement if its windows are sealed or painted shut, gets fogged with condensation or has drafts that come through the windows.
What does "cladding" mean?
Some windows have wood frames that are covered on the exterior and/or interior with a layer called "cladding" consisting of vinyl, fiberglass or aluminum. This cladding provides additional protection for the window frame by strengthening its resistance to outside weather or heavy inside usage. All Weather Shield aluminum-clad windows and doors feature thicker extruded aluminum offering greater strength and resistance to dents and chaulking from sun exposure, over the roll form aluminum used in other brands.
Glass, Glazing and Grilles
How do I know what type of glazing is right for a window?
Different climates and styles of homes require different glazing options in order to maximize energy efficiency. Some glazing options can also help reduce outdoor noises from entering the home. Options range from the single-glazed glass with minimal insulating value (commonly found in historic homes), up through dual-sealed, triple-insulated glass with multiple Low E surfaces with an argon gas-filled insulated airspaces for maximum efficiency. However, the premiere glazing system for superior energy efficiency is Zo-e-shield®. The advanced glazing system features a variety of options including multiple layers of Low E coating, argon gas-filled airspace(s), laminated glass, and easier cleaning exterior glass. The Zo-e-shield glazing system is available on many of the company's windows and doors in a number of configurations – from Zo-e-shield 5 through Zo-e-shield 7 – to fit an array of applications. Weather Shield is proud to feature the ENERGY STAR label on a wide range of windows and doors featuring an array of glazing options designed to provide superior comfort in climates across the country.
What are grilles?
Grilles consist of muntin bars that form a decorative pattern on a window or door by dividing the glass in to smaller panes.
What are the advantages of airspace and perimeter grilles?
Airspace grilles feature the muntin bars sealed in the insulating airspace between two panes of glass and make the windows easier to clean. Perimeter grilles have an easy snap-in design that allows you to easily remove them for cleaning and to quickly change the look of the windows. Custom grilles can be designed to fit a number of architectural styles and are also available as removable perimeter grilles for easy installation and removal.
What different grille options are available?
Weather Shield offers Simulated Divided Lite, Airspace and Perimeter grilles in a variety of styles and patterns. Custom grille patterns are also available.
What do U-values and R-values really mean?
When choosing any window or door, look for information that lists the product's U-Value and R-Value. U-Values represent the amount of heat that escapes through a wall, window, roof or other surface. The lower the U-Value, the more energy efficient a material is. R-Values are the direct opposite and they measure an object's resistance to heat flow. The higher a material's R-Value, the lower its U-Value, and the less energy it will lose. An R-Value depends on the number of layers of glass in a window, what type of gas is between those layers, and whether one or more of the layers of glazing have been treated with a Low E coating.
What does Low E stand for?
The term "Low E" means low emissivity. Emissivity is a property that's unique to materials, such as glass, which light can freely pass through. Low E is a coating of non-visible, microscopic layers of silver sandwiched between layers of anti-reflective metal oxide coatings. Added to the surface of window and door glass, Low E provides greater energy efficiency, increased comfort and protection from damaging UV rays. By filtering out the part of the light spectrum that transmits heat, Low E reduces a window's U-Value and increases its R-Value.
What is the difference between Simulated and True Divided Lite?
True Divided Lite (TDL) windows have individual panes of glass held together by muntin bars for a look similar to homes built during colonial times. Simulated Divided Lite (SDL) windows feature a glass pane with the muntin bar grilles permanently adhered to the interior and exterior surfaces to give it the appearance of a TDL window. An optional narrow spacer bar is available for the insulating airspace between glass panes and grille bars. This design offers modern energy efficiency while replicating the look of TDL construction where each lite is completely separated by a muntin bar.
What is an impact-resistant glass window?
These are windows with impact glass consisting of a strong laminated interlayer bonded between two panes of annealed, heat-strengthened, or tempered glass. When struck by a forceful object such as a tree branch or the stray golf ball, the glass resists shattering. When combined with an exceptionally strong window frame, in the rare event an object impacts the glass and causes the pane to shatter, it remains held within the frame. This type of window provides greater security and protection by greatly reducing the risk of flying glass or debris from entering the home during high windstorms.
Who should have impact-resistant glass in their home?
Impact-resistant glass is ideal for homeowners living in coastal areas prone to strong windstorms and hurricanes, or for those who live on a golf course or other area where vigorous sports activities take place. Some homeowners choose impact-resistant glass for the sound reduction and security benefits it provides.
Will impact-resistant glass prevent intruders from breaking into my home?
No glass can completely prevent intruders from entering your home. Any glass, when struck repeatedly with forceful blows, will eventually shatter. However, the majority of impact-resistant glass stays in the frame when broken, causing a forced entry to be much more time consuming, cumbersome and difficult.