>
IBS 2020 Recap: Featured Products At This Year's Show
IBS 2020 Preview: Enhancements and New Offerings for 2020 Product Lines
IBS 2020 Recap: Featured Products At This Year's Show
At this year's show, we featured our new and enhanced offerings that focused on UNOBSTRUCTED views: our new Contemporary Collection NEXT GEN Sliding Patio Door, the enhanced Bi-Fold Patio Door and the French Push-Out Casement Window.
View Flip Book or Download PDF.
Windows and doors are a key element when blurring the boundaries between indoor and outdoor living areas. However, merging indoor/outdoor spaces can sometimes mean compromising between aesthetic and performance features. Known for reimagined door solutions and purposeful innovation, Weather Shield worked diligently to design a sliding patio door that delivers superior performance and operation and features narrow profiles with large expanses of glass for unobstructed views.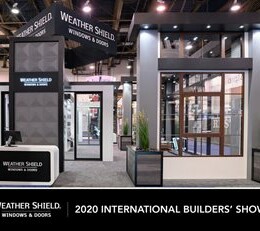 Inspiration
CONTEMPORARY COLLECTION™ NEXT GEN SLIDING PATIO DOOR
The NEXT GEN Sliding Patio Door from Weather Shield Windows & Doors is transforming the sliding door category with four key benefits: larger expanses of glass, advanced low-profile sill design, improved overall performance and superior operation. What makes this door unique from others in the market is its advanced hardware system. The new door also features a multi-point locking system where hardware encompasses the entire perimeter of the operating panel and locks it securely against the frame on all four sides — head, adjoining sides and sill. This advanced locking system provides exceptional air, water and structural performance.
A wept 1-1/4″ low-profile sill diverts water away from the interior. An optional direct-glazed version of the door expands the visible glass, giving a clean, modern look. This door is available in 4-panel, 2-panel and 2-panel direct set configurations with a 3-panel and French panel launching later in 2020.
POCKETING MULTI-SLIDE DOOR
In addition, Weather Shield showcased a pocketing option for the Multi-Slide Door. When the panels slide completely out of view, it's easier for homeowners to connect with the outdoors, creating the ideal, unobstructed view.
THE BI-FOLD DOOR RECEIVES AN UPDATED LOOK WITH NEW HARDWARE
Weather Shield shared the new enhancements for the beautiful, slender bi-fold doors which eliminate visible hardware to offer improved aesthetics and intuitive operation. These hardware options include a modernized shoot bolt system and concealed hinges.
Also, the Bi-Fold Doors within the Contemporary Collection and Premium Series® now include an advanced, low-profile sill option that delivers optimum performance against even the harshest elements. The new low-profile, 1.25˝ sill features leading water performance relative to sill height and integrates with finished flooring for a seamless transition free from potential trip hazards.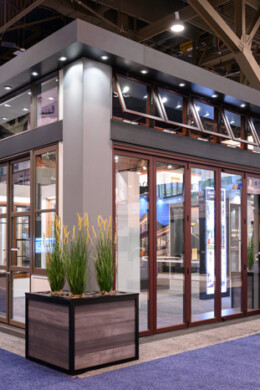 DIRECT SET & CORNER WINDOW WALL
Continuing to expand the possibilities, Weather Shield now offers a 90-degree corner window. This direct set configuration, when stacked at an angle, creates a tilted glass wall that is sure to make a statement.
FRENCH PUSH-OUT CASEMENT
Weather Shield has expanded the Premium Series and Contemporary Collection portfolios to include a new line of Push-Out Casement and Awning windows. Combining great looks and uncompromising performance, the new windows are a flexible option for use alone, together or in combinations with other windows and doors for seamless design continuity.
With a textured steel aluminum finish, this window is similar to the Push-Out Casement with two sashes that open out, but what sets this push-out apart from others is that there is no stability bar in the middle taking away from the view.
Additionally, the new push-out units have two new handle choices that are available in a variety of finishes including Matte Black, Rustic Bronze and Satin Nickel.
Along with the new design for the French Push-Out Casement window, customers can now achieve the natural look and feel of a steel window or door with Weather Shield's new simulated steel finishes. These new textured exterior paint finishes are available in a variety of colors that mimic the natural look and feel of a steel window or door. Combine these textured exterior paint finishes with poly painted interiors, putty interior profiles and 5/8″ SDL to achieve a simulated steel appearance with the thermal efficiency and overall performance of Weather Shield's Contemporary Collection wood-clad products.
With a variety of enhanced and new offerings, now is the perfect time to incorporate Weather Shield Windows and Doors in your home or upcoming project. We appreciate the opportunity to meet with our valued customers, dealers and partners, and we look forward to collaborating in the future.