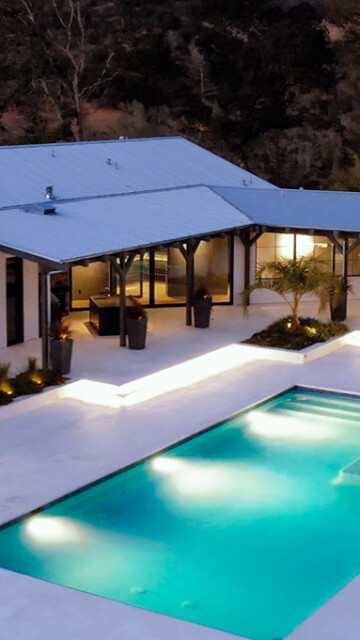 Contemporary Collection Case Study
Overlooking the rolling hills and picturesque vineyards of Napa Valley sits a bright, light-drenched industrial farmhouse specifically designed to bring natural elements of the outside world into this comfortable yet modern home. The visionary team at Carreiro Builders partnered with award winning James McCalligan Architecture, both known for bringing the highest level of craftsmanship, design and unrivaled personal attention to every project. Together, they imagined a home that complemented its stunning surroundings to no end.
The entire design—from the inside out—was constructed to give guests an ideal visual experience. Clean, unobstructed sightlines make way for an open, airy interior, while the charming exterior is a warm invitation to come in and marvel at the modern industrial design.
It's no wonder that windows and doors made a significant impact on the personality of this home, helping to bring expansive, eye-catching views into focus and focal points that captivate you, drawing you in at every angle.
Design Challenge
How would Carreiro Builders, known for their commitment to superior craftsmanship, leverage elements from the property to design a home that naturally fits in with the neighboring landscape?.
More importantly, how would they capitalize on bringing the outdoors in?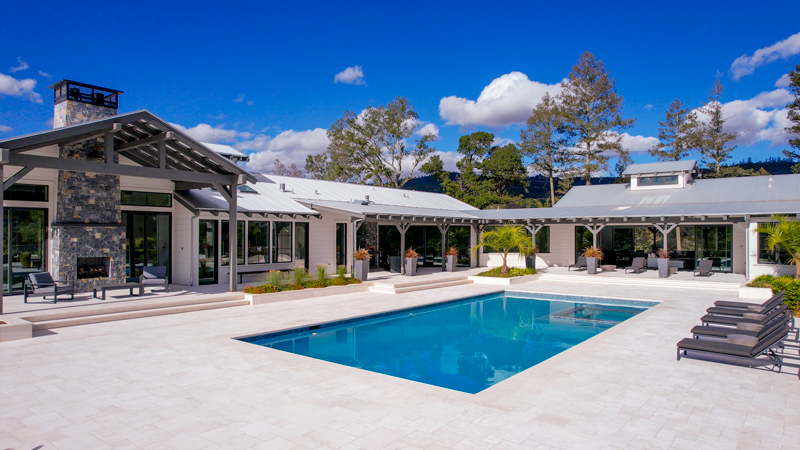 Further, how would Carreiro Builders find a windows and doors partner who shares a similar passion for craftsmanship, integrity, and dependability?
The Solution
Carreiro Builders considered many window and door companies and ultimately teamed up with Weather Shield, choosing to design with their innovative Contemporary Collection. This collection would provide the builders with a seamless, modern aesthetic, plus enough standard and custom options to help bring this one-of-a-kind dream home to life.
The result is a beautifully crafted 8,500 sq. ft. home (roughly 11,000 sq. ft. including the guest house) comprised of natural wood beams, numerous open-hearth fireplaces, and vast expanses of glass that provide unobstructed views of the scenic terrain and blur the lines between indoors and outdoors.
Perhaps the most essential part of this home's charming personality is the 12 sets of multi-slide doors. These contemporary doors help maximize light and create an effortless flow from inside the house to the outdoor pool and lounge areas around the home. Additionally, their slim-line appearance helps further accent the connection between the home and its surroundings, a fundamental piece to its design.
With Carreiro Builders' unique vision, along with the abundance of custom windows and doors used throughout, breathtaking vistas can be enjoyed from nearly every room. So, no matter where you sit, you've always got the best seat in the house.
Project Specifications
Project Name
Napa Valley
Location
St. Helena, CA
External Material
Aluminum-Clad
Product Series
Product Type
Options
Bronze Exterior, White Poly Interior
Architect
James McCalligan Architecture, Carreiro Builders Inc.
Weather Shield Dealer