>
>
Indianapolis Green Home
Contemporary Collection Case Study
Weather Shield Windows & Doors Completes Design of Contemporary, Green Home with Expansive Views
As the owners and founders of Ambre Blends, Adam and Ambre Crockett have dedicated the past 20 years to the production of high-quality, organic body products focused on the "discovery of a newfound self." From the curated selection of 100 percent pure vegan ingredients to the simplistic design of their biodegradable packaging, their mantra has continually exemplified both the business and lifestyle choices of this progressive, eco-friendly couple.
"We see ourselves as environmentally-friendly individuals leading wholesome, green lives devoid of harmful chemicals," said Ambre Crockett, a former massage therapist and avid yoga and aromatherapy enthusiast.
With the desire to apply their eco-minded concepts to an ultra-modern home, the Crocketts enlisted the talents of Clete Kunce, principal owner and founder of One 10 Studio in Indianapolis, Indiana, an architectural firm with a growing reputation for delivering clean residential designs. ONE 10 STUDIO Architects took on the challenge of building the Crockett's new home on a beautiful, wooded lot amidst a traditional Indianapolis neighborhood lined with gabled, shingled houses.
"We're a nimble, agile agency that carefully picks our projects," explained Kunce. "To us design is everything. We expect everything to wind up an award winner, which is what made this project so intriguing. Adam wanted a concrete box, while Ambre envisioned a green, comfortable living space designed with sustainable materials. The compromise resulted in an L-shaped four-bedroom, five-and-a-half-bath home that the Crocketts lovingly call 'Papillion' to highlight a caterpillar's wondrous metamorphosis into a butterfly."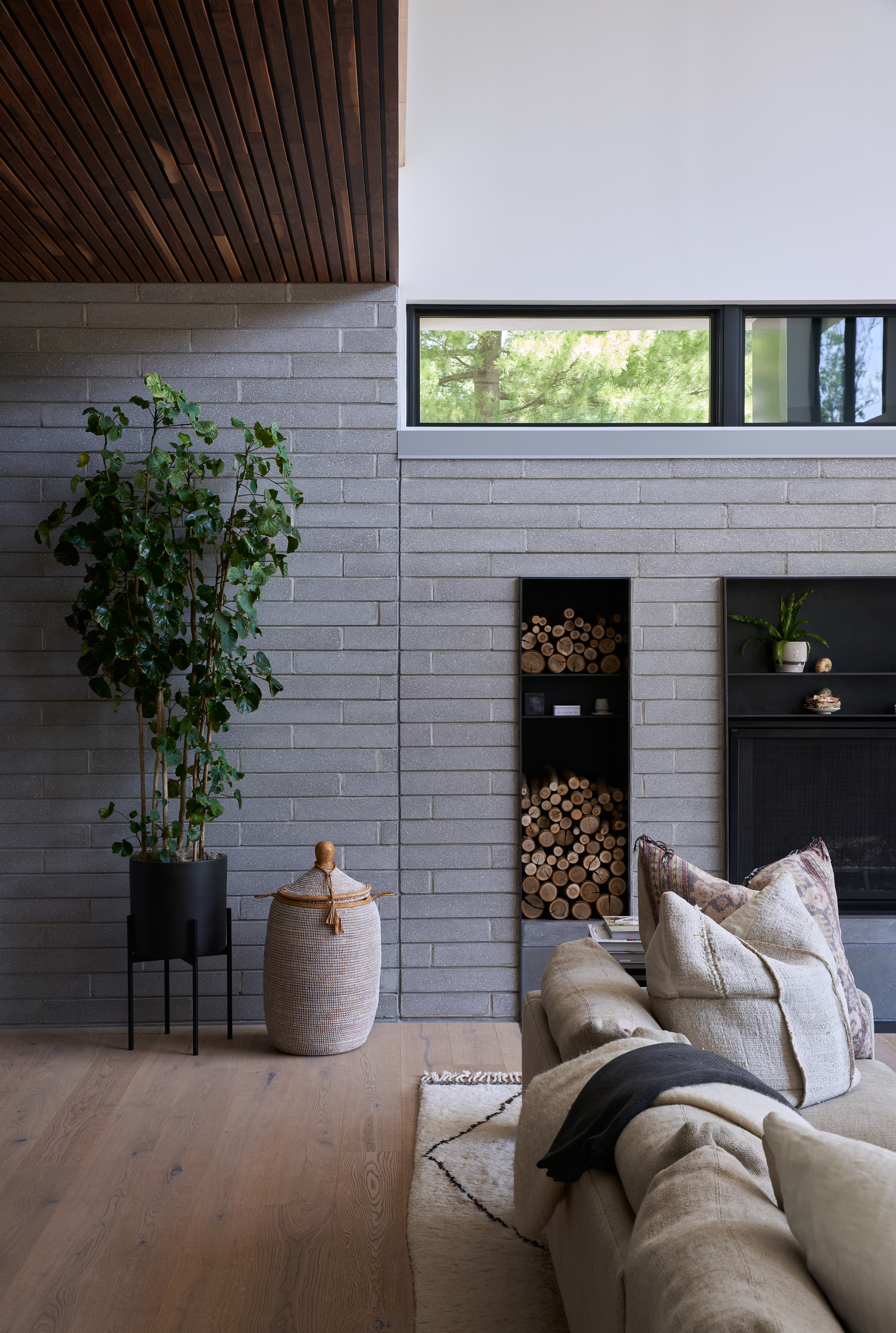 The three-year collaborative effort between ONE 10 STUDIO and their clients culminated in the 2019 grand opening of the three-story, 5,600-square-foot, communal living environment adorned with natural wood colors, warm gray tones and white stucco siding.
Key architectural feats included the meshing of this ultra-modern living space with the elevation and aesthetics of the neighborhood's existing houses. "The windows were the thread that pulled it all together," said Kunce. "Sourced through Weather Shield, a Medford, Wisconsin-based firm, they provided a seamless, living transition to the family-friendly courtyard as well as a dark accent that aligned easily with the home's warm, comforting elements."
Once all the design elements were settled, the window selection process was relatively easy given that Kunce and ONE 10 STUDIO had used Weather Shield windows and doors in eight of its last 10 projects over the past two years. "We love Weather Shield's Contemporary Series," explained the designer. "The colors are awesome. The frames are thin and minimalistic and not thick and clunky like other brands. Plus, the service is great. They always come through no matter the request – the prefect partner from an architectural viewpoint."
Window selection and placement played a critical role in ONE 10 STUDIO's overall design. Kunce explained, "We performed several sun studies to determine the best placement and sizing of the home's oversized casement windows and glass doors. The goal was to bathe the entire house with an abundance of natural light, while creating great views of the property's beautiful exterior from nearly any room or interior location."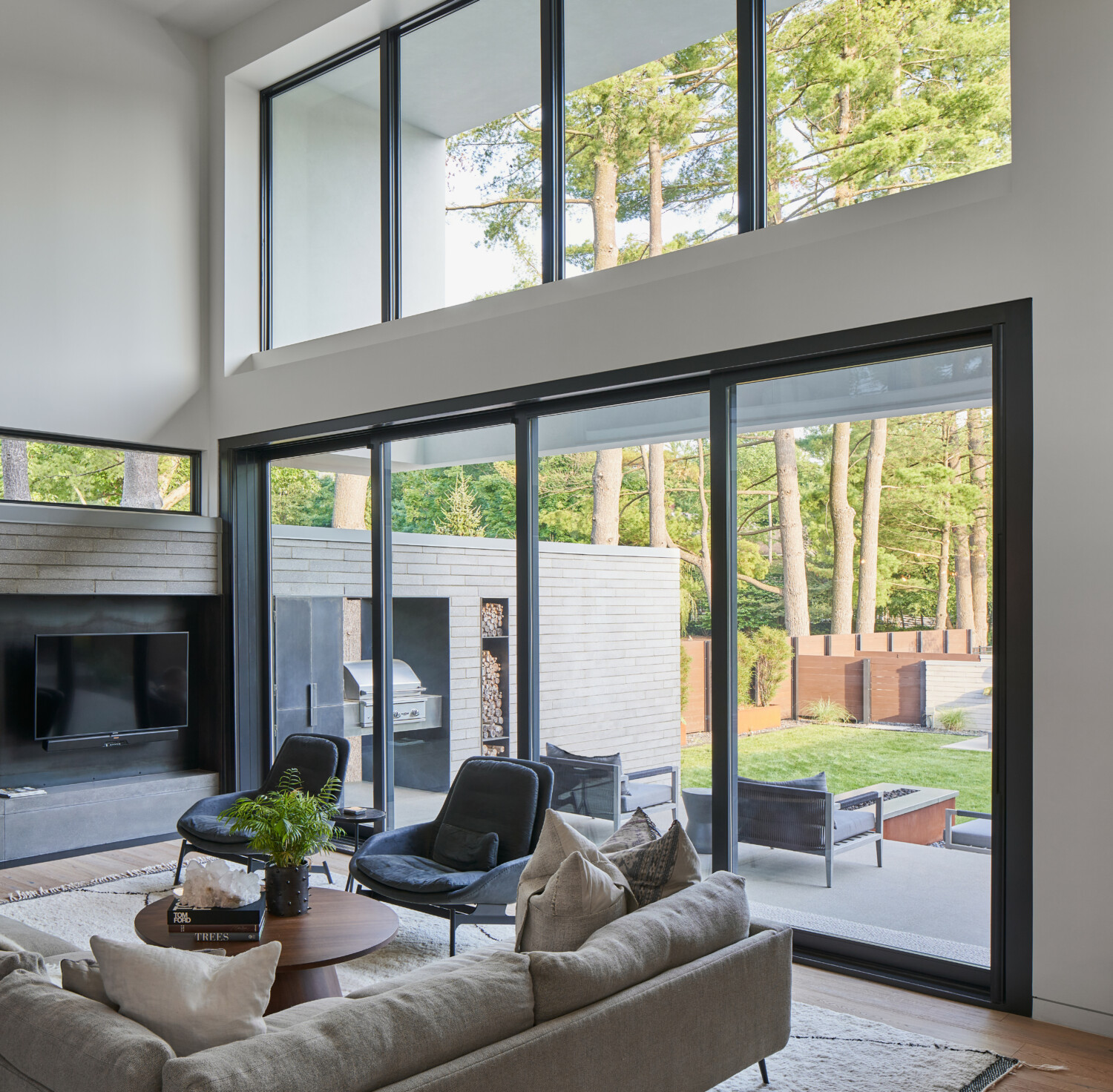 During this time, ONE 10 STUDIO relied heavily on the expert advice and recommendations of Alan Broderick, Weather Shield's territory manager in Indiana and the surrounding region. Thoroughly understanding the project's architectural demands, Broderick worked with Kunce who specified an assortment of 40-plus casement windows and multi-slide doors—ranging from a few feet in width in height to 10-feet tall in several locations— from Weather Shield's Contemporary Collection series. The modern aluminum-clad wood windows and patio doors were specifically designed to enhance the expansive views of custom, high-end homes. Another prominent feature of the collection is its ENERGY STAR® rating and energy-efficient Zo-e-shield® glazing, which has been shown to keep homes cooler in the summer and warmer in the winter, resulting in lower energy bills and less sun damage to the home's interior.
"They look terrific," said Kunce. "Each window and door's obsidian frames blended easily with the home's warm tones and grays. And you can't beat the construction. We were so impressed by the quality of the multipoint lock doors and the way the glass is anchored into the frame and reinforced at the corners. As a result, Weather Shield's Zo-e-shield® glazing has been an easy sell to customers once they learn all the benefits."
Exterior highlights of the home included an 18-foot-tall bamboo garden visible from both levels of the house, several electric car charging stations, and a vegetated roof system designed to improve rainwater retention and reduce heat island effect. The home's interior main level—finished with formaldehyde-free, FSC-certified Austrian white-oak flooring throughout— was built to create an open flow between the kitchen, dining room and living room. The result is an inviting space set against a clear, expansive view of the property's pool and wooded lot.
The Crocketts are thrilled with the nurturing, green and modern environment that Kunce and ONE 10 STUDIO Architects designed for their growing family.
"We loved this south-facing lot given that it's landlocked and no one will ever build directly behind us," added Adam Crockett. "This allowed us the privacy to design the entire back of the home with expansive glass windows and doors and enjoy nature while taking advantage of the winter's passive heat gains."
According to Adam, the home's open living space is one of the family's favorite spots to gather and enjoy the outdoor views of the spacious, wooded area circling the house's backyard and the built-in pool that recently won the "Master of Design" award in Pool & Spa News (magazine).
He added, "In addition, we wanted a high-quality modern, window package to complement the home's contemporarily aesthetics. Weather Shield hit the mark exactly. They look great and offer outstanding quality and thermal and UV protection. The windows and doors were the perfect accent to a wonderful design, which has been admired by both neighbors and passersby. We never tire of the countless people, who stop to ask questions, pay their compliments and just admire our home's design."
For more information on Weather Shield Window & Doors please visit https://www.weathershield.com or call 800-222-2995.
About Weather Shield
Today, Weather Shield remains family-owned, with three generations actively involved in the day-to-day operations of the company.  Weather Shield continues to grow and thrive by striving to offer only the highest quality products.  Over the years, dedication to innovation has grown the company into one of the nation's leading window and door manufacturers.
Based in Medford, Wisconsin, Weather Shield proudly offers its comprehensive products and services nationwide.  With more than 1,900 employees dedicated to providing everything homeowners want in windows and doors, we invite you to discover everything Weather Shield has to offer.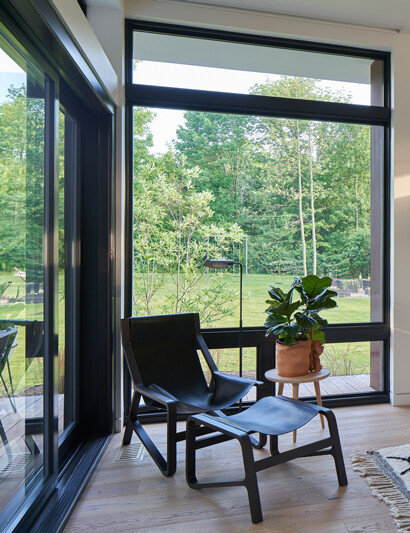 Project Specifications
Project Name
Indianapolis Green Home
Location
Indianapolis, IN
External Material
Aluminum-Clad
Product Series
Product Type
Options
Jet Black Aluminum Exterior, Jet Black Poly Painted Interior
Architect
One 10 Studio Architects
Weather Shield Dealer